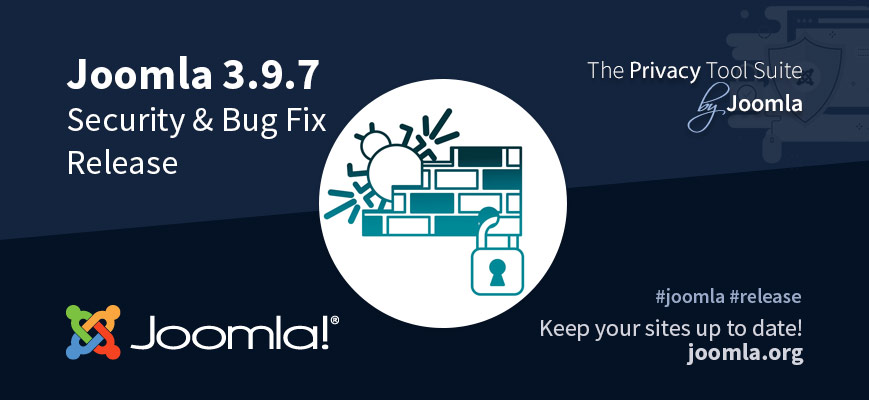 Joomla 3.9.7 is now available. This is a security fix release for the 3.x series of Joomla which addresses three security vulnerabilities and contains over 40 bug fixes and improvements.
What's in 3.9.7?
Joomla 3.9.7 includes three security vulnerability fixes and several bugs and improvements, including:
Security Issues Fixed
Low Priority - Core - CSV injection in com_actionlogs (affecting Joomla 3.9.0 through 3.9.6) More information »
Low Priority - Core - XSS in subform field (affecting Joomla 3.6.0 through 3.9.6) More information »
Low Priority - Core - ACL hardening of com_joomlaupdate (affecting Joomla 3.8.13 through 3.9.6) More information »
Bug fixes and Improvements
Visit GitHub for the full list of bug fixes.
Note to users using the French Help Server: Please do not update to 3.9.7 and wait for 3.9.8
Download
A Huge Thank You to Our Volunteers!
A big thank you goes out to everyone that contributed to the 3.9 releases!
Make the next Joomla release even better
Joomla 3.10 and 4.0 are coming along nicely. Got a bright idea about how we can make Joomla even better? We are calling all devs to make a difference and share your ideas on improving the CMS.
Find out more about these releases over on GitHub:
Download these upcoming releases from the nightly build page (for testing purposes only - do not use on production sites).
Want an even easier option? Get yourself over to launch.joomla.org - where you can test Joomla 4.0 with just one click - no testing environment needed, nothing to install or set up (at all).